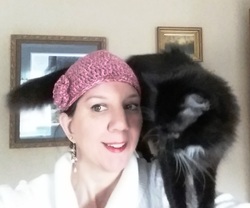 Welcome! I'm so glad you're here.

I will be posting info, pictures, links and my insights on various topics. Mostly I'll be gabbing about yarn and things yarn related, but there will some cooking tips, recipes, and stuff about gardening. And cat pictures, of course!

I was taking a picture to post on The Crochet Crowd's FB page for National Hat Day, and Cozey decided she had to be a part of the festivities (i.e. a selfie). She looks huge in this pic, but she's actually quite petite at 5 lbs.